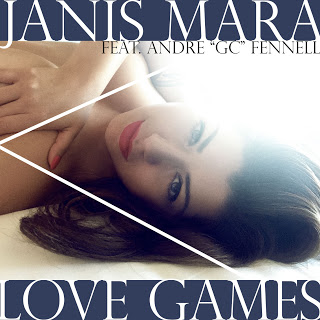 Deep House Meets Deep Disco on
Janis Mara's
New Single "Love Games"
Premiering Exclusively Today on Surviving the Golden Age
http://survivingthegoldenage.com/janis-mara-andre-gc-fennell-love-games/
For Immediate Release – Miami, FL – June 12, 2014 – Global house innovator Janis Mara previews her new single "Love Games" exclusively on Surviving the Golden Age today. "Love Games" featuring Andre "GC" Fennell (Shaggy, Eve) releases to digital stores on July 15 via Evo Records. Listen here: https://soundcloud.com/janis-mara
"Love Games," is inspired by relationships of course. No one is innocent. Everyone plays games and Mara is no exception. She wrote a song about it after all.
Mara began gaining attention for herself in 2012 after co-writing and recording the song "Feels So Right" with producer Fayden (Justin Bieber) within an hour. Music fans and Bieber fans a like know Fayden. He's covered GoodWill and MGI along with 50 Cent. An invitation to Winter Music Conference followed along with various collaborations including this one with Fennell.
Then Evo Records contacted her about writing a dope dance track and it proved more challenging than she imagined. The result: ethereal, Euro-esque disco rhythms with raw, island-influenced rap layered on top. Pitbull meets Donna Summer or Carmen and done really, really well for a millennial audience. Start to finish, "Love Games," took 1 year and 11 months to complete. It's well been worth the wait by all of the dance floors that have been jonesing for its' arrival this summer.
Venezuelan born and Miami-bred, Janis Mara is foremost an artist and a songwriter. She's daughter to a model/actress mother and her painter father. Growing up, she listened to nothing but the classics: Nina Simone, Pink Floyd's The Wall (her grandmother used to play it a lot), the Beatles White Album, the PoliceSynchronicity and of course Latin music in all of its various forms. Then on to the hardcore skate scene in the of all scenes. As a teen, she was the only woman fronting the local hardcore act Divine Steed and took a turn as the front woman for a Stone Temple Pilots cover band too. By college, acting took over as well as a move to NYC. She's now focusing completely on her music again, and for good reason. The people want it!
More on Janis Mara:
Contact: Margo Drgos - Zerbert Music & Lifestyle - 310-849-5857 -margo@zerbertgroup.com